You don't have to be in second grade to enjoy a San Francisco park.
That's the message 150 laughing and scampering kids had March 2 for Mayor London Breed and other dignitaries who, having graduated from swings and slides, still enjoy a good urban play haven like the Turk-Hyde Mini Park, which reopened after an 11-month, $1.7 million makeover.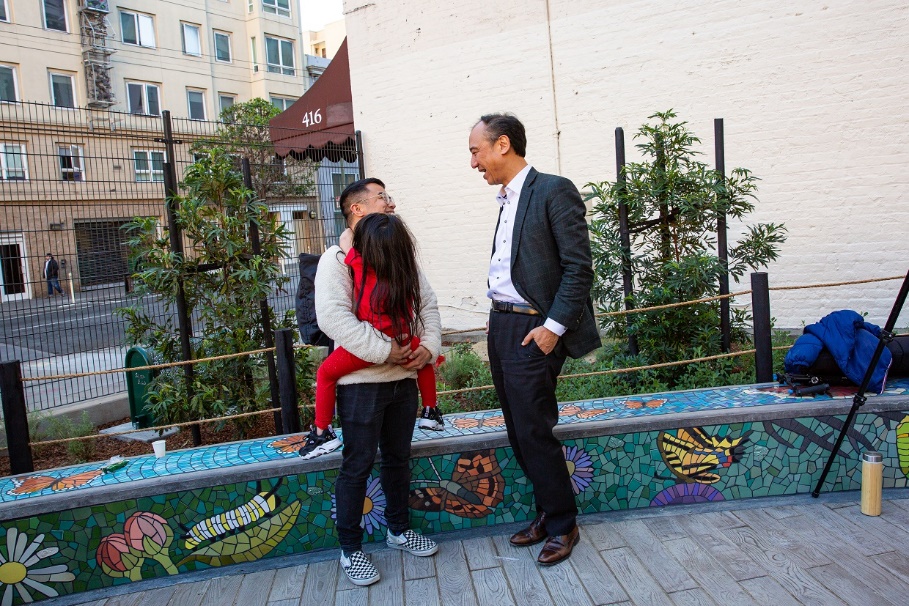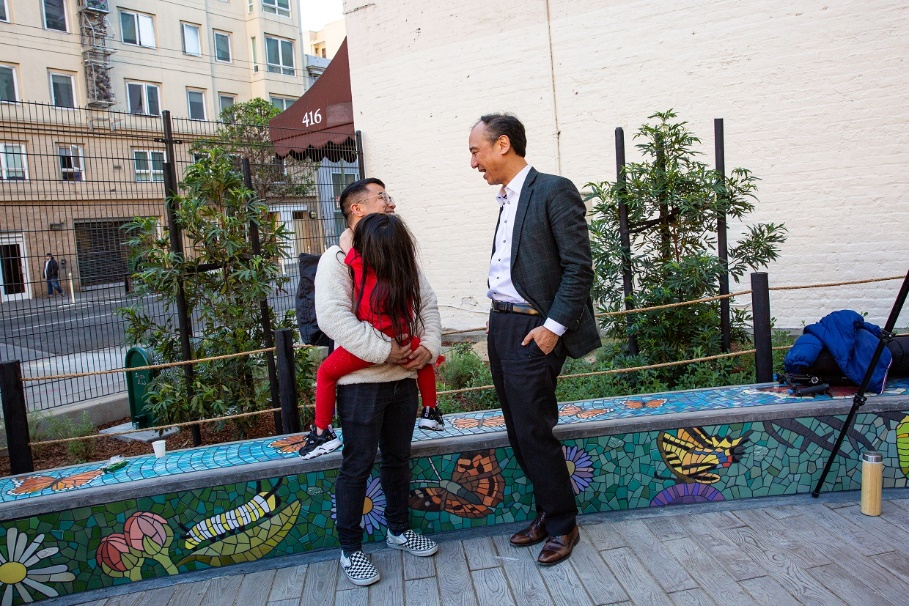 Veritas founder Yat-Pang Au talks with Mark Gayapa, who grew up in the Tenderloin and lives in a Veritas-owned building, and his daughter, Aquamarie, at the mosaic tile bench.
Renovations feature new playground equipment, landscaping, tables and a bold mosaic bench created by noted Berkeley artist Wilma Wyss and commissioned by Veritas Investments. The bench highlights native pollinators, butterflies and the plants that support them.
Mark Gayapa, who grew up in the Tenderloin and lives in a Veritas-owned apartment, brought his young daughter, Aquamarie, to the opening. "I'm proud of this," said the father of two. "We need more parks to keep kids out of trouble."
Andy S. a fifth-grader at Tenderloin Community School, eyed the bench swings. "I really like them. You can play on them with your friends,'' he said, bouncing near the slide.
As a siren blared, Breed welcomed the grown-ups to the urban oasis in the warm late-winter breeze. "The kids need a safe and clean place to play," Breed said amid the giddy shouting students. "Look how happy they are!"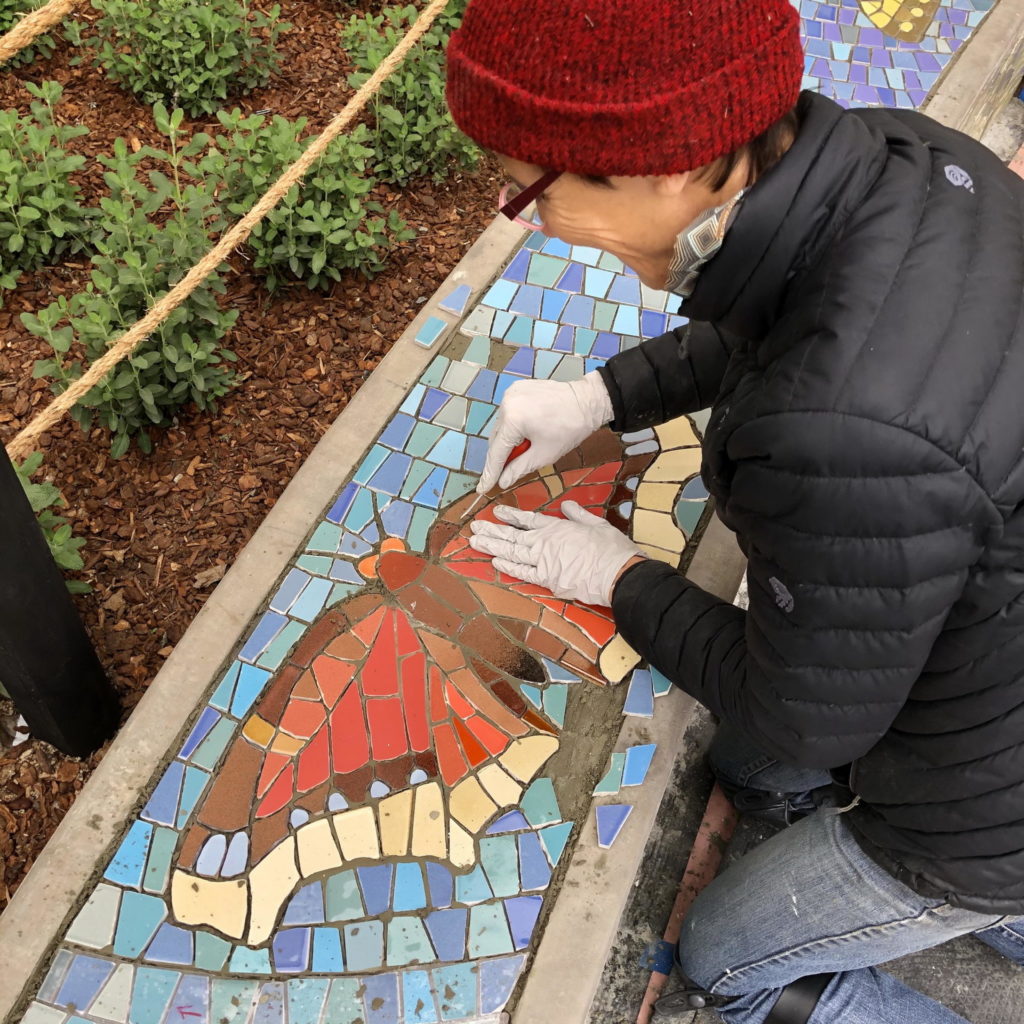 Mosaic artist Wilma Wyss works on the installation of the Turk-Hyde Mini Park bench.
The mosaic bench is part of Veritas' mission to improve San Francisco neighborhoods for both residents and native species. "This mosaic bench and natural habitat complements the 11-story monarch butterfly mural three blocks up at 455 Hyde," Jeff Jerden of Veritas said. "We are thrilled to have been part of this wonderful addition to the neighborhood."
Using 100 different colors of high-quality tiles, Wyss spent two months creating the mural at her Berkeley studio. "I researched local butterflies and plants," she said. "I tried to render the butterflies accurately so they could be identified; the plants are a bit more abstract."
Wyss and her crew then moved the mural's 35 pieces to the park, assembling and grouting the sections.
"I love working with environment themes as well as the education aspects. I'm thrilled to have it in a park used by kids," said Wyss, noting that she will have additional mosaic art debut this spring at nearby Sergeant John Macaulay Park.
The engaging bench and the eye-catching mural are some of the steps Veritas is taking to encourage the expansion of living space for endangered pollinating insects. Efforts include influencing the city to change planting plans at both parks to be 100 percent pollinator friendly and redoing the rear garden at 455 Hyde – home of the national migrating mural.