Our Veritas Innovations division grows ideas. We partner with PropTech firms working to reinvent residential real estate.
Together with our partners, we create experiences that make our residents happier, operations more efficient, and communities more connected places to live and thrive.
Just as our Residents First initiative permeates our day-to-day lives at Veritas Investments, so does it drive what we do at Veritas Innovations: seeking new opportunities to create exceptional experiences for our residents and communities through technology.
Environmentally sustainable practices and solutions go hand in hand as we collaborate with partners such as Measurabl to reduce our carbon footprint while enhancing our residents' quality of life.
Since the company's founding, Veritas Investments has embraced technology to better manage our diverse and distinct portfolio of multifamily properties across our markets. The establishment of Veritas Innovations is a testament to our dedication to collaborating with partners that improve the living experience of our residents.
Amazon Partnership
Veritas Investments has teamed up with Amazon to enhance the delivery experience for our San Francisco residents. This partnership benefits our residents by providing them with a convenient and secure location to receive their packages with Amazon Lockers.
Package deliveries can be an inconvenience, especially for those who are not home during the day. Amazon Lockers provide a hassle-free delivery experience, allowing residents to pick up their packages at a time that is convenient for them, any time of day or night.
At Veritas Investments, we are dedicated to providing exceptional living experiences for our residents, and this partnership with Amazon is just one example of our commitment to that mission. We are thrilled to offer this service in buildings across San Francisco and are continuously seeking new ways to innovate and improve the living experience for our residents.
Veritas Innovations News
connectcre  |  July 1, 2022
---
Bilt Rewards and Mastercard recently announced a multi-faceted partnership to launch the Bilt Mastercard. The co-brand credit card offers renters across the United States a way to pay rent via credit card with no fees, earn points and boost credit history with every on-time rent payment.
Veritas Innovations @ Medium  |  March 18, 2022
---
Tumble, a San Francisco laundry startup founded in 2019, is making waves in the technology world in their effort to make doing laundry a simpler, more modern experience. Tumble has been a partner of the Veritas Innovations team for the last two years, receiving nothing but praise from our colleagues for the founding team and their laundry machines.
Bringing Innovations to Light
Veritas Innovations partners with startups to foster their growth in the multifamily PropTech market. Since the company's founding, Veritas Investments has embraced the utilization of technology, implementing innovative solutions to our operations in order to better manage our diverse and distinct portfolio of properties. The establishment of Veritas Innovations is a testament to our dedication to collaborating with outstanding startups and nurturing their growth towards success, simultaneously enhancing resident experience and optimizing our operations.
BILT
"The team at Veritas moves quickly and were key to our early launch and traction. Their top-down focus on seamlessly unleashing technology and willingness to test and learn is refreshing. Thanks to their partnership, thousands of renters can now earn points on rent and save toward rewards like vacations or even a down payment on a house."
Ankur Jain
CEO
Latch
"Veritas has been an invaluable partner since the very beginning, providing strategic counsel as we developed our products and supporting us in unlocking unique, access-based experiences. Their involvement has helped shaped Latch into what it is today, and I'm excited to continue this partnership as we grow."
Luke Schoenfelder
CEO and Co-Founder
Case Study: Veritas & NOWi
Detecting Water Leaks
The average apartment wastes 12% of its water usage with leaks. For most Veritas buildings, this can add up to thousands of dollars and thousands of gallons of water wasted every year in each building.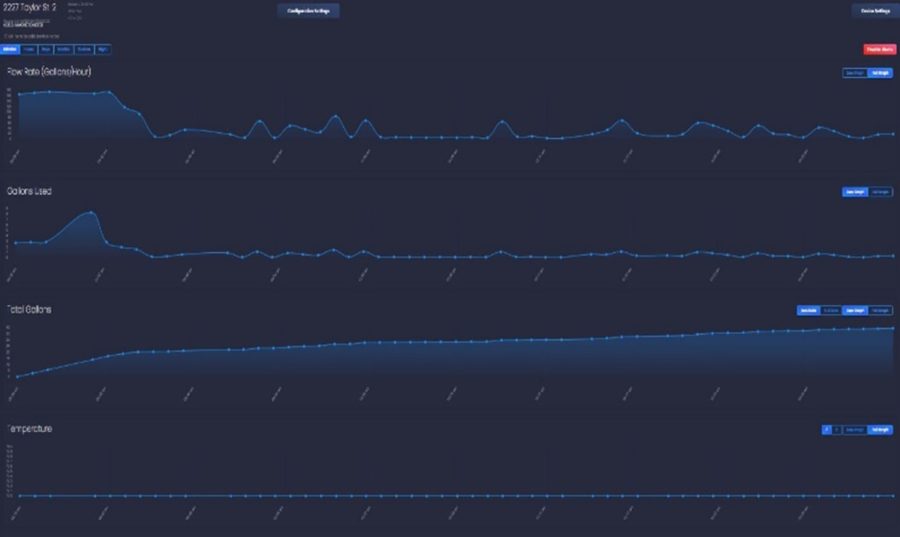 NOWi Dashboard for property water usage
As a company looking to reduce their waste, especially in drought-ridden California, Veritas teamed up with NOWi to address the issue. This innovative company from Connecticut, founded in 2020, uses technology to detect leaks and monitor water usage at the property level with a simple and cost-effective device. Installed in seconds, NOWi provides real-time and historical data, so Property Managers can track consumption and pinpoint potential leaks that could cost hundreds of dollars if left undetected. While WiFi or Bluetooth technology powers most leak detection solutions, NOWi's source of connectivity comes from Helium, a blockchain network that provides decentralized wireless connectivity across 163 countries. This allows NOWi to provide data even when WiFi isn't available.
Veritas Innovations' partnership with NOWi started in December of 2021 to pilot four of their water monitoring devices on four properties with abnormally high water usage to detect potential leaks and other water-related issues. Starting at $399 per device with an annual $99 monitoring fee, NOWi can be installed at any water meter as easily as strapping a watch on your wrist. To activate the device, remove the lid, pull off the yellow jumper, press the reset button, and put everything back in place. NOWi batteries last up to 5 years and cost a total of $35 to replace, which includes the $5 battery and a $30 labor fee.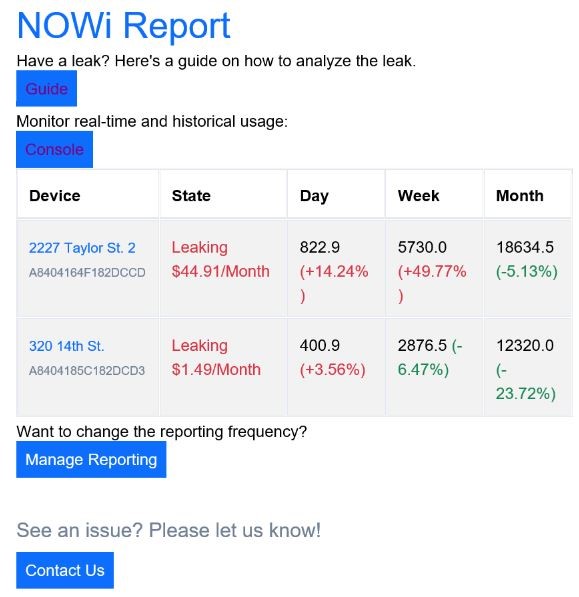 NOWi report snapshot
Immediately after installing the NOWi sensors, Veritas began receiving reports and data sets via daily email, highlighting any excessive or unusual water usage at the property. Users have access to the water dashboard, where Property Managers can monitor flow rate, gallons used, and water temperature.
Over the initial month of observing NOWi dashboards and collecting reports, a water leak was identified at one of the four properties. Upon further investigation, the team discovered a running toilet was directly tied with the high water usage identified in the NOWi report. The leak – estimated to potentially cost an average of $240 a month – was quickly fixed by the dispatched maintenance technician, and water usage at that property returned to normal levels. The following month, an alert at another property showed a spike in water usage. Just as with the first leak, a maintenance technician found and repaired the cause, bringing usage back inline with historical averages.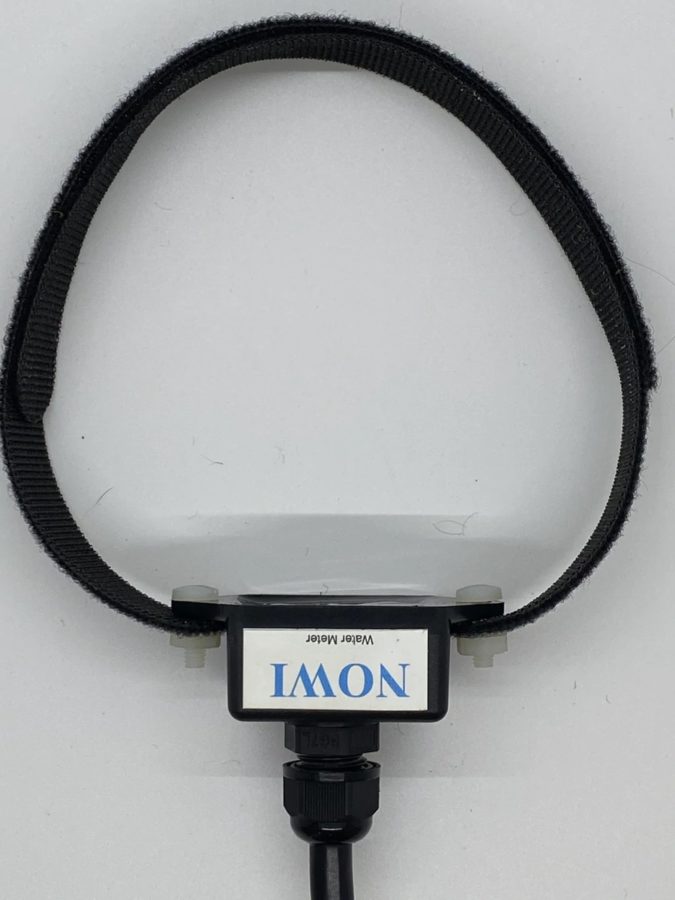 A NOWi sensor
NOWi continues testing on various properties chosen based on the number of apartments in the building. Originally NOWi considered their devices most effective on buildings with fewer than 12 units. After working with Veritas on pilots at larger buildings NOWi was able to scale the solution for buildings of any size. The new and improved sensors and algorithms would replace the originals and allow scaling up the deployment of NOWi's water sensors to a greater range of properties.
The Veritas Innovations team is eager to bring this modern water monitoring and leak detection solution to the infrastructure of century-old Victorian buildings. The NOWi water sensors allow Property Managers to better understand water consumption trends, individually benchmark properties in real-time, and reduce commonly-caused incidences of leaks and water waste. NOWi will help Veritas prevent leaks, save water and help San Francisco in its goal to decrease water usage.
Our Partners

---
BILT Rewards is a renter loyalty and rewards program and provides access to the first renter-friendly Mastercard, which can be used to pay rent with no fees. Residents can use the BILT app and credit card to pay rent, make miscellaneous purchases, and earn points to redeem rewards such as BILT's curated art pieces, airlines, hotel stays, and even a mortgage. Veritas joined the first cohort of property managers for the brand's exclusive launch.

---
Carson Living is a 24/7 virtual doorman service, intercom, and resident app all packed into one convenient and innovative package. With Carson Living, residents can remotely open their building's front door, add digital keys for visitors, track the delivery of their packages, and more.

---
The LATCH smart operating system is a hub that connects smart locks, intercoms, and other devices to create a full-building network designed to make buildings more secure and powerful.

---
PetScreening provides a digital passport for pet and assistance animal owners that holds their pet's important information – like age and weight, vaccination records, and microchip information – on a single platform.
Its platform also serves as a pet risk screener and accommodation validation service for assistance animals.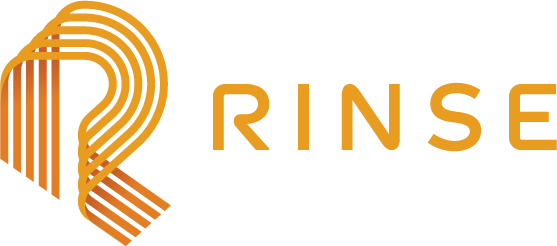 ---
From wash and fold to leather cleaning, Rinse partners with local laundromats and dry cleaners to provide a pickup and delivery service for garment care. We've partnered with Rinse to provide exclusive services to our residents.

---
Tumble makes a patent-pending locking mechanism for Speed Queen laundry machines, simultaneously providing preventative maintenance technology so we can detect malfunctions and leaks before they happen. Paired with their laundry app, users can view their wash cycle, reserve machines, and make cashless payments.