In a city known for eclectic public art, work on one of San Francisco's most ambitious pieces begins this week.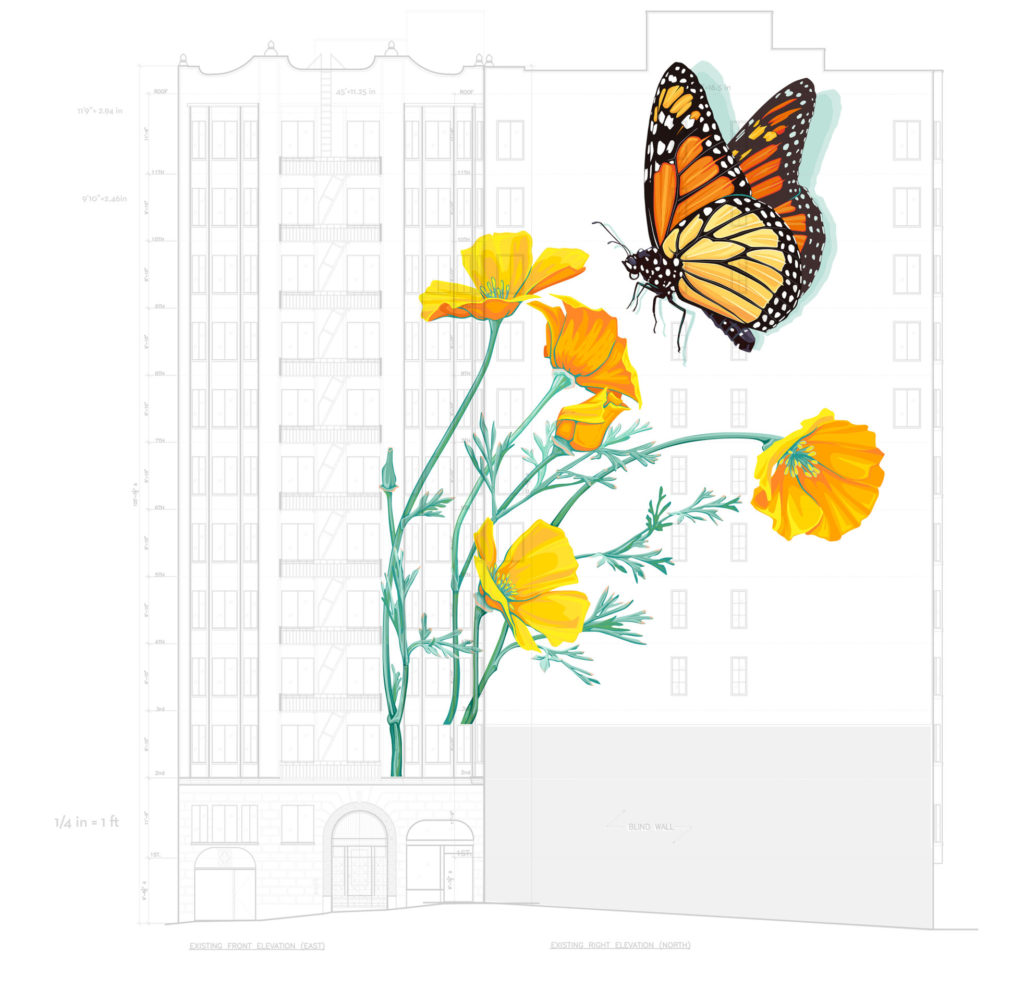 By the end of the year, Veritas' 11-story apartment building at 455 Hyde Street will be adorned with pterodactyl-size murals of California's famous — and fragile — monarch butterflies. The purpose is two-fold: to promote awareness and education of the declining monarch population and to make the elegant Hyde Street building look even more lovely.
The Migrating Mural project is the brainchild of Ink Dwell studio, founded by artist Jane Kim and Thayer Walker. Ink Dwell is known for its ambitious outdoor and oversized art projects that feature lifelike depictions of wildlife, but Hyde Street will be the largest of its kind and the first to wrap a building on three sides. The Monarch Migrating Mural, launched in 2017, now has butterfly-mural iterations in Florida, Utah and elsewhere.
Over the last 20 years US monarch populations have dropped more than 90 percent. The federal government is currently considering the monarch butterfly for endangered species status. Found throughout the country, monarch butterflies are famous for their multi-generational migrations from Canada to Mexico. Tracing the path of the monarch across North America, the Migrating Mural drives support for habitat conservation and restoration while beautifying public spaces with monumental art.
"Every schoolchild in California learns about the migration of the monarchs and the population decline," said Yat-Pang Au, founder of Veritas, one of San Francisco's premier apartment operators. "We thought this would be a magnificent way to underscore these stately butterflies and further enhance 455 Hyde Street as a world-class building."
Said artist Jane Kim, "When I moved to San Francisco in 2003, I lived in the Tenderloin for four years, so it means the world to me to have the ability to brighten the neighborhood with Ink Dwell's public art."
Ink Dwell creates art that explores the wonders of the natural world. Merging classical techniques of science illustration with modern fine art, Ink Dwell creates public and private commissions, illustrations and exhibitions.
With work getting underway in coming days, passers-by will get to see the painters on lifts on the sides of the building and watch the progress of the murals. 
In addition, Ink Dwell is designing a monarch-themed archway for 455 Hyde's exterior entryway.
Veritas is also exploring ways to complement the mural and extend the awareness of the monarch population decline, as well as protecting other pollinators in San Francisco. The company is pursuing initiatives with San Francisco Recreation & Parks as well as community and school groups to advance projects by the Xerces Society, whose core program focuses on habitat conservation and restoration, species conservation and protecting pollinators.