Live With Optimism
Shannon Riley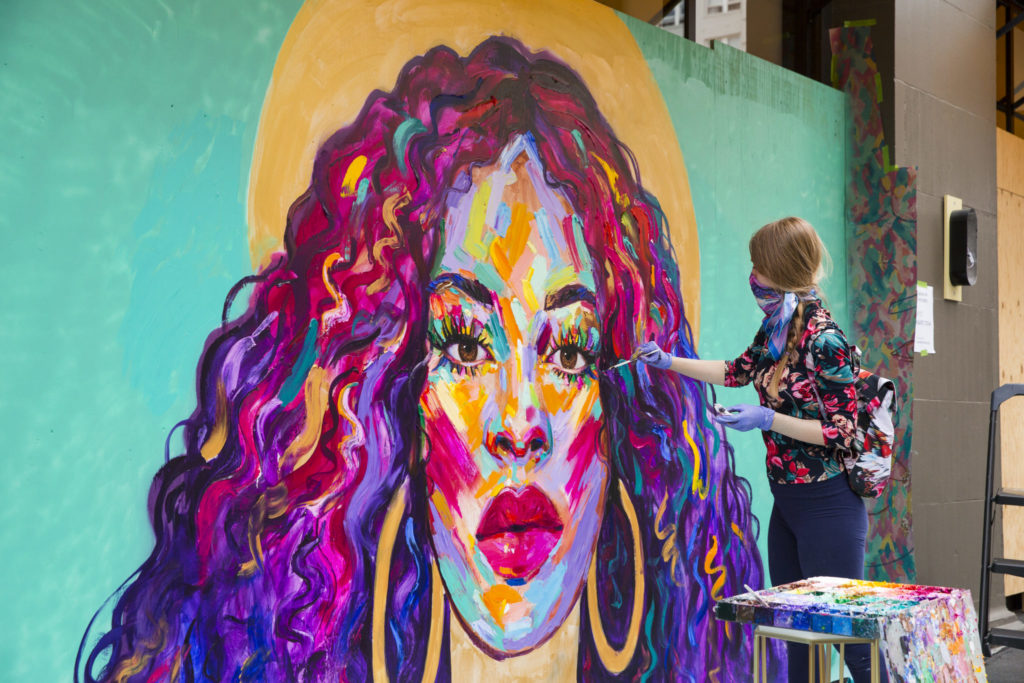 Few people or professions were spared when COVID-19 grounded everyday life to a halt in March 2020. For 2020 Live with Character recipient Shannon Riley, the circumstances were just another obstacle to overcome. As founder of Building 180, a female-run art agency that manages artists, curates spaces, and produces large-scale, public art, the pandemic was the latest opportunity to uplift both artists and the Bay Area community she calls home.
When COVID first affected the Bay Area, Shannon had a stable of artists under contract to work under Building 180, but no spaces to paint in. Her daily walks past boarded-up businesses soon sparked an idea: what if she could find work for artists painting murals around the city while bringing hope to her San Francisco community? Inspired, she set out to make her vision a reality by launching the Paint the Void project.
By early April, Shannon had fundraised $10,000 to paint 15 murals throughout the City on boarded up storefronts, hotels and restaurants. By working directly with small business owners like RentSFNow, she could get art up quickly without the typical bureaucratic hurdles. Soon, 2,000 artists had applied for a grant. Additional funds from the City of San Francisco meant more artists working, more paint on walls, and more vibrancy and life in neighborhoods that needed it.
As the year progressed, so did Shannon's Paint the Void project. She and her partners discovered they had skewed too white and male in their initial grants and set about reflecting more diverse backgrounds and voices. The murder of George Floyd and the tumult that followed meant murals began to take on a more activist slant. What began as an initiative to keep artists working and lift the spirits of the community now began to embody civil discourse, non-violent protest, and different perspectives coming directly from diverse people: a true artistic evolution in action.
Momentum has only built since then. Amy Cohen, San Francisco's Director of Public Spaces, got behind the project and a partnership with the Yerba Buena Center for the Arts meant more funds and 30 new murals. Most importantly, the community has connected with more than just the finished works, but with the act of creating them. A process that previously happened behind studio doors instead plays out in the open for all to see, driving a new appreciation of what it takes to make the beautiful art in their neighborhoods. "Working with the artists is absolutely incredible," says Shannon. "There's this momentum around it. Going out and watching the process, knowing you are making a civic contribution, is absolutely amazing."
For all its challenges, Shannon's experience with Paint the Void has only reinforced her love of art, artists, and their collective power to create a public good. "Every local community has artists," she explains. "We hired artists who could walk to the site they were painting. Keeping everything community-level was something we prided ourselves on." Her Live with Character winnings will be reinvested into the project, allowing it to become sustainable for all parties. One year and 100 murals (and counting) later, Paint the Void continues to brighten, provoke thought, and reflect the beliefs of the neighborhoods that provide a canvas for so many artists – residents of the very places they give back to.
View More About Live With Character