Live With Determination
Dulce Grant
The American Dream means different things to the diverse people of the United States, but many immigrants share a similar belief: that the US provides opportunities to better their lives through education.
Second quarter 2020 Live with Character award recipient Dulce Grant's family is no exception. As a first-generation immigrant who arrived in the US from Mexico with her parents at four years old, school was something to be taken seriously. Dulce realized pursuing higher education was an attainable goal while studying at Downtown College Prep (DCP) in San Jose, a charter school founded to prepare first-gen students for college. When she was accepted into Mills College, it was the result of years of hard work, boosted by plenty of support from her parents and educators.
Dulce realized just how different her path to college was from many of her peers while pursuing a degree in Political, Legal, and Economic Analysis with a double minor in Psychology and Urban Education. Motivated to share her story and offer support, she founded a club called Sister Sister with fellow first-gen Mills students, visiting Oakland high schools to spread the message that higher education is within reach.
After a post-graduation stint with the San Jose vice mayor's office, Dulce found an opportunity to combine the work she began in Sister Sister with her passion for education as an Alumnae Success Counselor at DCP. Dulce is a listener and advocate, part endlessly positive cheerleader, therapist, and problem-solver. She knows the challenges created by an educational system that can appear to stack the odds against first-gen students and the pressures to succeed they can feel from their loved ones, who sacrificed to afford them better opportunities. "Just because [a student] want[s] to do art history and not become a doctor or lawyer doesn't make them a failure!" she explains.
Dulce admits that it's hard, often emotional work, but after five years and helping almost 600 students, she continues to be passionate about her mission.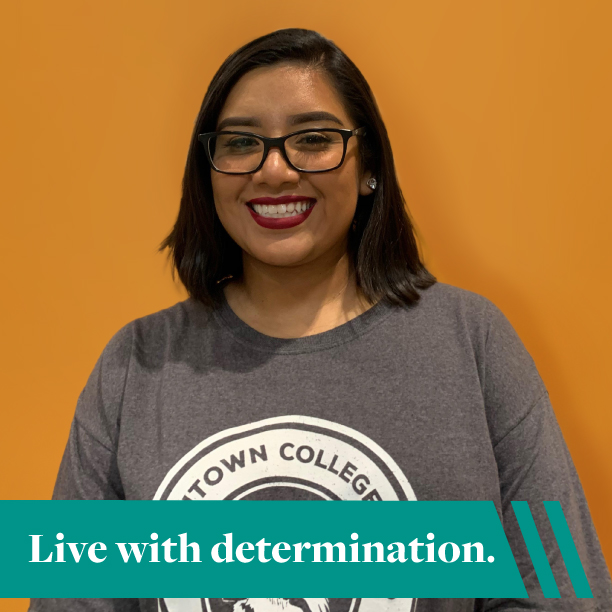 Her reputation as a passionate, knowledgeable advisor is growing – new student referrals often come from "cousins, cousins' cousins, and cousins' neighbors." Some of the people she advises have been out of school for as long as a decade. Yet, they've witnessed their friends and loved ones succeeding despite unique and challenging situations and are motivated to pursue their goals too because of the work Dulce has done in her community.
Extending her expertise beyond her day job is natural for Dulce, who is generous with her time and has worked tirelessly to create a safe space for any and everyone to share their feelings, fears, and dreams. She knows people who didn't attend a school like DCP might not have had the strong mentorship she enjoyed as a student and provides as a counselor. No matter who she is advising, Dulce follows a simple guiding principle: how can we align higher education or skill-enhancing programs to this person's situation and goals?
The extracurricular sessions are paying off. One advisee from a difficult situation had wanted to pursue a career in nursing; Dulce accompanied her to an information session for a one-semester program. "She recently called me to say 'I'm in my job right now! I couldn't have done this without you!'" Dulce says with pride.
It's the kind of moment that makes the hard work worth it, and bolsters Dulce's desire to focus on what she can control instead of the many things she can't. Her Live with Character prize money will provide vital funding for an important part of her mission: supplies for care packages for first-year college students. The packages, which are typically paid for out of Dulce's pocket, are assembled with the help of a small team of volunteers, then mailed or delivered in person right before first semester finals – a time where students historically drop out.
Like so much of Dulce's work, the care packages are a simple reminder that students are cared for and supported: that regardless of age, life situation, or course load, they can succeed and achieve their goals. Dulce knows there is still more to do, as budget cuts mean less money earmarked for alumnae work and even more obstacles to overcome. But Dulce has made a career of rising above challenges – and first-generation students of all ages are living their own version of the American Dream because of it.
/*
Do you know someone who is making a positive impact in the Bay Area?
Submit nominations here for an opportunity to win a $1,500 award to further advance their goodwill efforts in the community.
Live With Character Nomination Form
*/ ?>
View More About Live With Character