Case Study: Monitoring Water Usage in Large Unit-Count Buildings
Water conservation in the multifamily industry
Water is a precious resource that is often wasted due to undetected incidents in the multifamily industry. In fact, trillions of gallons of water are wasted in households every year, according to the Environmental Protection Agency. These losses not only squander a scarce commodity, but raise water costs and can negatively impact resident experiences.
HydroPoint and Veritas
With over 36% of California experiencing "exceptional" drought (the worst level, according to the U.S. Drought Monitor), it is more important than ever that Veritas is actively becoming part of the solution. We recently partnered with Petaluma-based HydroPoint to deliver on its promises of environmental responsibility and tech-forward stewardship. HydroPoint's smart water management solution known as WaterCompass has proven to scale in large unit-count buildings.
The WaterCompass solution is a 24/7 real-time water use analytics and leak detection solution that helps prevent "water blindness." It monitors water flow, detects leaks, provides sophisticated analytics, helps maximize water savings, reduces operational costs, minimizes business risks and liabilities, and helps companies achieve sustainability goals.
How WaterCompass works
WaterCompass clamps onto the water meter or pipe and data is continuously collected. Information is uploaded to a secure data center, giving a historical view of water usage. WaterCompass provides excellent communication with the on-site property management team by providing weekly reports via email and when anomalous water usage is found, an alert notifies on-site management so they can take action.
The results of a partnership
This technology was piloted at 1369 Hyde Street Apartments in San Francisco in Q1 2023 to detect leaks and provide sophisticated analytics on water usage. At this larger unit-count building (80+), it was the perfect place to test a smart water management system.
Over the course of the three-month pilot, WaterCompass identified 21 cases of high hourly use or continuous usage. Three of these identified cases were determined to be unusual and required investigation by our on-site management team. WaterCompass alerted the on-site property management team via email, text, and calls to ensure that immediate attention was brought to the issues.
In one example, WaterCompass identified a case of anomalous water usage that measured 118 gallons per hour between the hours of 1 a.m. and 3 a.m. This was a significant anomaly to the standard ~25 gallons used at this time of day.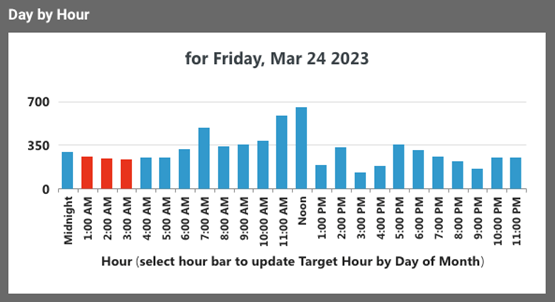 In the 3 a.m. image you'll see how the main source of the problem was easily identifiable in the dashboard. It shows how this water use was unusual by the hour.
In this image, you'll see what on-site property management could see through the dashboard regarding target water use. This made it easy to confirm that what was happening was indeed unusual.
Within 24 hours of notification, our on-site team was able to identify the source of water leakage and within two days resolve the issue, saving thousands of dollars and gallons of water.
What's next
Confident in this solution, Veritas plans to roll out WaterCompass at more properties in the coming months. By combining this water-saving strategy with a culture of conservation among residents and employees alike, Veritas can play a significant role in preserving water company-wide, ultimately contributing to a more sustainable future.